News & Events
IWRI
February 16, 2017
Online HIV Prevention Intervention Native MSM Now Open
The Vr2L 2Spirit project is a culturally grounded, online HIV prevention intervention for Native American men who have sex with men(MSM). The intervention facilitates positive sexual health behaviors and promotes HIV risk harm reduction strategies. We are actively recruiting participants nationally to test the private Vr2L 2Spirit Island within Second Life® (a free, 3D virtual world). Eligible participants can earn up to $190 USD for their time and participation.
We are seeking people nationally who:
Are American Indian or Alaska Native
Are at least 18 years old or older
Have daily access to a computer with internet & the ability to download the free Second Life® software
Are male or identify as male and have (or have had) sex with men
Has drank alcohol or used other substances in the previous 3 months
Please find a project flyer below. Would you be able to share this opportunity with your networks? Anyone interested in participating can email vr2s@uw.edu  or call 206-265-3805.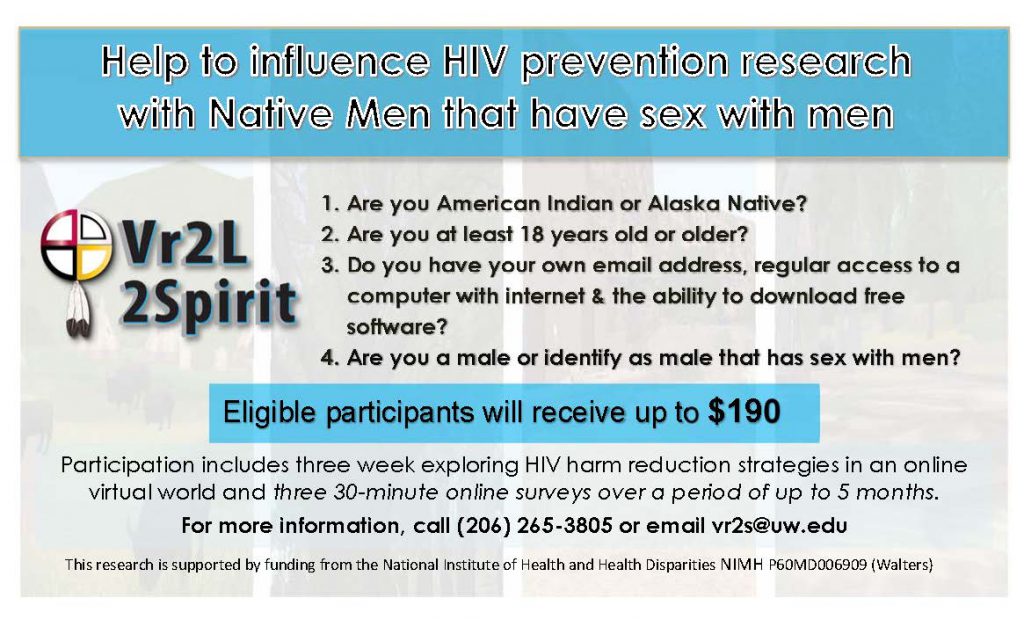 Thank you!
Vr2L 2Spirit Project Team
Indigenous Wellness Research Institute
University of Washington
(206) 265-3805
Funded in part by the National Institute of Minority Health and Health Disparities (P60MD006909; PI: Karina Walters).